Sustaining Cities, Naturally: Urban ecosystem restoration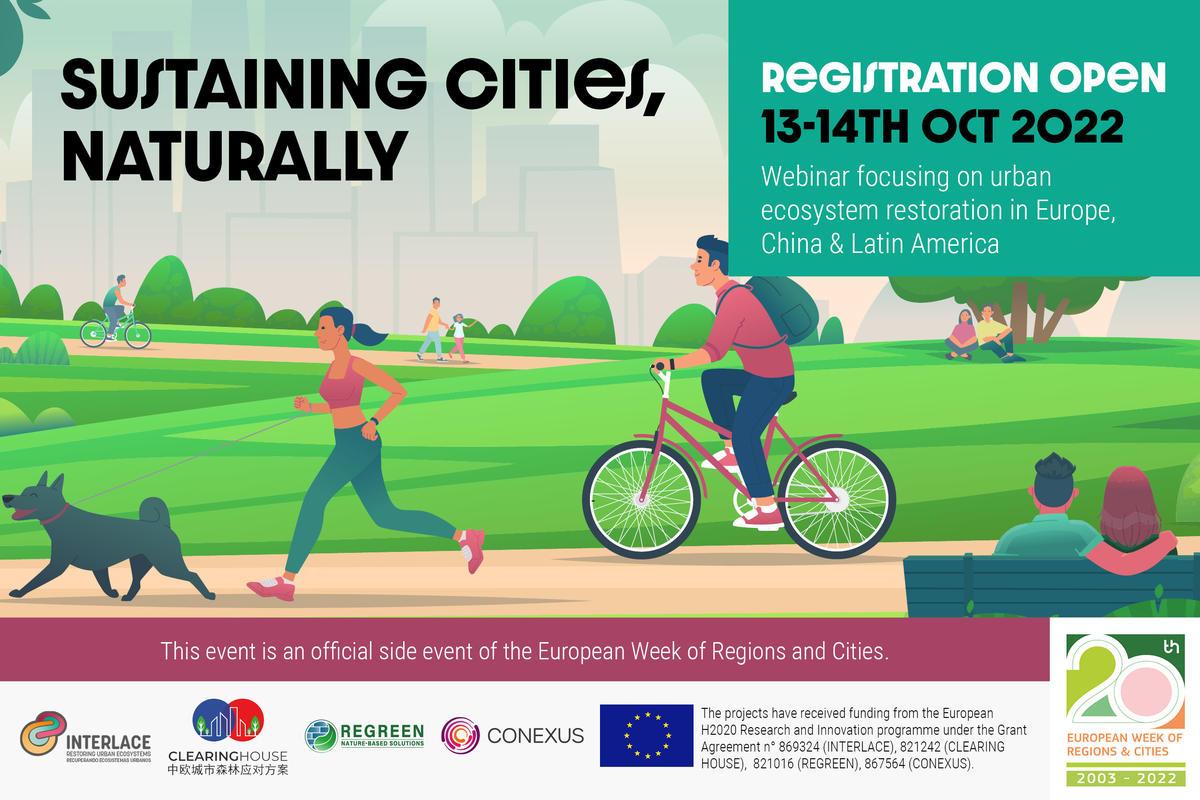 Poorly planned urbanisation can lead to societal challenges as social deprivation, climate change, deteriorating health and increasing pressure on urban nature. Urban ecosystem restoration can contribute to lessen these challenges, e.g. through implementing nature-based solutions (NBS). This online webinar illustrates how Horizon 2020 projects are supporting international cooperation in knowledge creation and knowledge exchange between local authorities and researchers to promote urban ecosystem restoration in Europe, China and Latin America. Th
This webinar is jointly organised by the projects: INTERLACE, CONEXUS, REGREEN and CLEARING HOUSE as an official side-event of the The European Week of Regions and Cities 2022.
This webinar brings together cities, regions and local authorities, city network representatives, policy makers, researcher, civil society and experts on nature-based solutions and urban ecosystem restoration from Europe, China and Latin America.
In line with the UN Decade on Ecosystem Restoration, the proposed EU Nature Restoration Law and the NetworkNature semester on nature-based solutions standards and quality, the webinar will focus on the following six topics: economics, governance, social aspects, ecological quality, environmental quality and education.
Attending the webinar is free of charge. The webinar will be held in English with simultaneous translation (Spanish and Portuguese on 13 October, and Chinese on 14 October). Register now!
Draft agenda, Thursday, 13 October (14.00 - 18.00 CEST)
14.00 - 14.20 Welcome and setting the scene
14.20-15.30 Economics of urban restoration and NBS
15.30-16.40 Policy, governance and institutional issues
16.40-16.50 Break
16.50-17:50 Social aspects
17.50-18.00 Closing
Draft agenda, Friday, 14 October (9.00 - 13.00 CEST)
9.00 - 9.20 Welcome and setting the scene
9.20-10.30 Education 10.30-11.40 Environmental quality of urban restoration activities
11.40-11.50 Break
11.50-12.50 Ecological quality of urban restoration activities
12.50-13.00 Conclusions
____________________________________________________
Una urbanización mal planificada puede dar lugar a problemas sociales como la privación social, el cambio climático, el deterioro de la salud y el aumento de la presión sobre la naturaleza urbana. La restauración de los ecosistemas urbanos puede contribuir a reducir estos problemas, por ejemplo, mediante la aplicación de soluciones basadas en la naturaleza (SBN). Este seminario web en línea ilustra cómo los proyectos de Horizonte 2020 están apoyando la cooperación internacional en la creación de conocimientos y el intercambio de conocimientos entre las autoridades locales y los investigadores para promover la restauración de los ecosistemas urbanos en Europa, China y América Latina.
Este webinar está organizado conjuntamente por los proyectos INTERLACE, CONEXUS, REGREEN y CLEARING HOUSE como evento paralelo oficial de la Semana Europea de las Regiones y Ciudades 2022.
Este seminario web reúne a ciudades, regiones y autoridades locales, representantes de redes de ciudades, responsables políticos, investigadores, sociedad civil y expertos en soluciones basadas en la naturaleza y restauración de ecosistemas urbanos de Europa, China y América Latina.
En consonancia con el Decenio de las Naciones Unidas para la Restauración de los Ecosistemas, la propuesta de Ley de Restauración de la Naturaleza de la UE y el semestre de NetworkNature sobre las normas y la calidad de las soluciones basadas en la naturaleza, el seminario web se centrará en los siguientes seis temas: economía, gobernanza, aspectos sociales, calidad ecológica, calidad medioambiental y educación.
La asistencia al seminario web es gratuita. El seminario web se celebrará en inglés con traducción simultánea (español y portugués el 13 de octubre, y chino el 14 de octubre). Por favor, inscríbase en el siguiente enlace: https://www.eventbrite.fi/e/sustaining-cities-naturally-urban-ecosystem-restoration-tickets-377396331587.

Our partners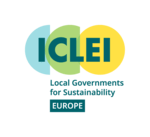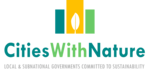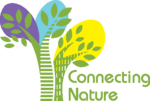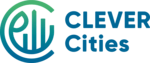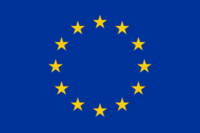 The UrbanByNature programme is funded by the Horizon 2020 Framework Programme of the European Union under Grant Agreements No. 730222 and No. 776604. The sole responsibility for the content of this website lies within UrbanByNature and in no way reflects the views of the European Union.